August 4, 2020
CU's Commitment to Advancing Diversity, Equity and Inclusion
I was pleased to engage with the CU Board of Regents about our efforts to address civil rights concerns at the joint meeting of the regents' Governance and University Affairs Committees.

Image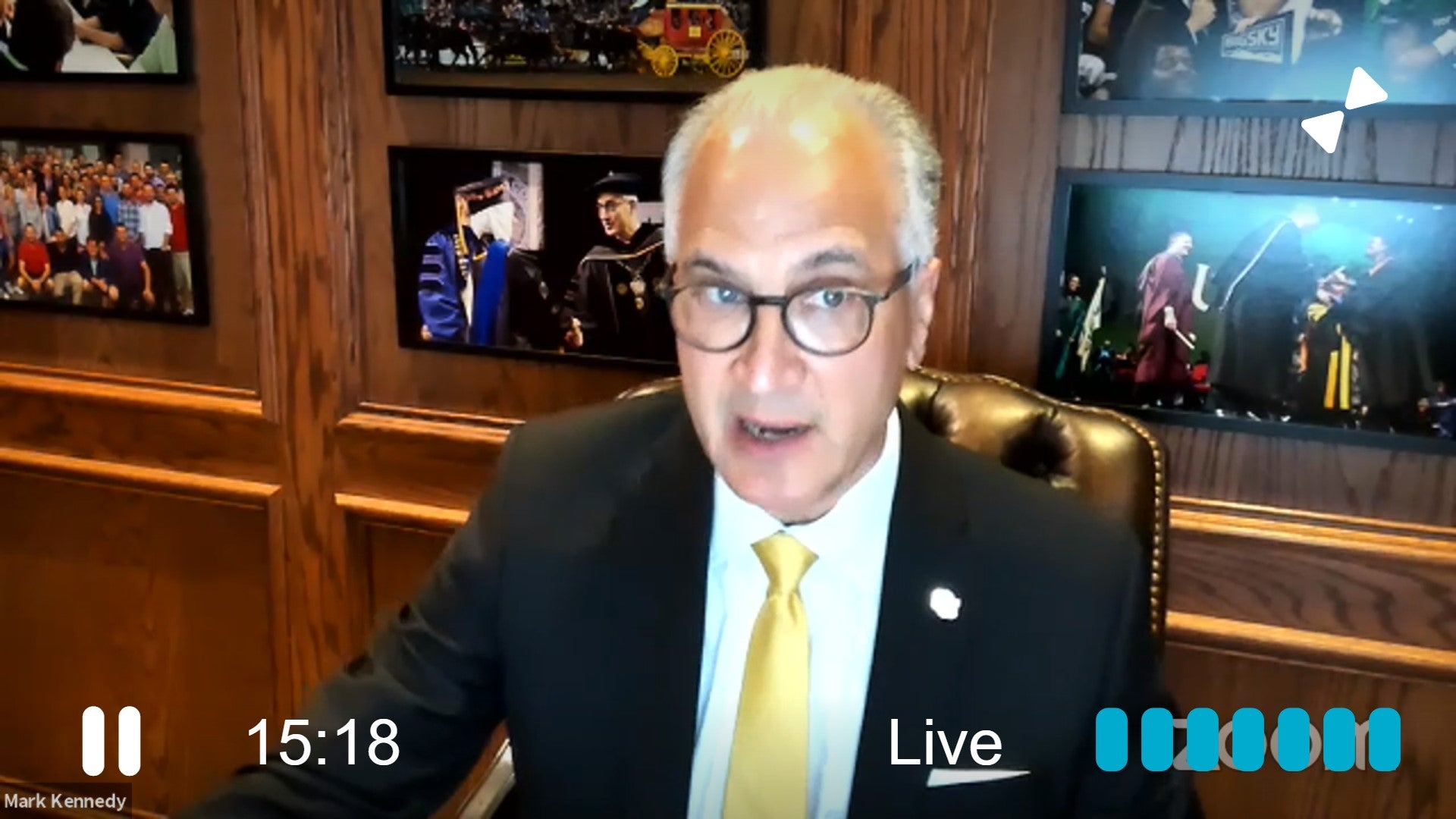 Thank you for this opportunity to discuss the many actions underway at the University of Colorado to address civil rights concerns. I want to stress from the outset that the diversity, equity and inclusion work at the University of Colorado is among the most important work we do. As an institution of higher education, we have a particular obligation to lead on these issues. They manifest in our educational enterprise, our research, our living, learning and work environments. It is important for us to recognize this moment in our society and our world and to use that moment to elevate what we do at our university, in our communities, around our state and beyond.
We have made progress, but we still have much more work to do and much more listening and learning to do. We're in this for the long haul and we are committed to success. Achieving success means everyone has to be engaged. Diversity, Equity and Inclusion isn't just our new Chief Diversity Officer Theodosia Cook's job or a campus CDO's job, it must be a focus for every one of us and we must work together to get where we need to go.
I will provide an overview of current actions at the system level. Theodosia will outline the progress she seeks to advance in the year ahead and the chancellors will report on actions and work underway on each campus. Taken together, I submit that a robust response is underway at CU to address concerns raised by many in our community.
I know that the committees' original purpose for this meeting was to discuss Regent Kroll's resolution. As I discuss our diversity initiatives and accomplishments, I will be covering how we have already completed or are addressing all of the items he listed in his resolution, and more.
There is a reason why diversity is one of the four pillars of our strategic plan. Even though it has been a focus for both our nation and CU for some time, we are far from where we need to be as a nation, state or university in providing the opportunity that a college degree can provide. The much-discussed disproportionate impact of this pandemic on Black and brown communities is in significant part due to people of color not proportionately benefiting from access to higher education. This is in great part due to factors like housing, the varying quality of K-12 education by neighborhood, the increasing tendency to treat higher education as a private good, instead of a public good. Rather than use these factors as an excuse or attempt to solve problems outside of our sphere, CU is called upon to do our role in attracting, retaining and graduating those from less advantaged backgrounds with increasing success, which will elevate their future success, providing real impact on narrowing economic disparities.
Given the growing diversity of our state and nation, broadening access to the 2 opportunities for success that a college degree provides is not just important to people of color, their families and communities, it is vital for our state and nation to have the talent necessary for our economic vibrancy. It goes without saying the future success of CU hinges on increasing our results in attracting and graduating minorities that will soon represent the majority of our nation.
We fully recognize there is a broad desire for actions, not just words. We are committed to acting, yet we must all recognize that we have a long hill to climb,with some required actions being immediate, some taking a longer time to formulate.
What the extended CU community deserves from us is leadership, not by us taking sides in the fierce partisan debates that are center stage in national and state contests, but by proceeding with a sense of urgency to make deliberate and meaningful progress on diversity, equity and inclusion, even as we continue our historical track record of commitment to free speech among those with strong differing views on our campuses
Leadership begins at the top. Let me summarize a few examples of this.
President / Chancellor Engagement
In the first instance, leadership from the top is reflected not only in my hiring the system's first Chief Diversity Officer, who reports directly to me and from whom you will hear shortly, but also by Chancellors Marks, Elliman and Reddy having their executives most responsible for diversity reporting directly to them and by Chancellor DiStefano providing a substantive charge for meaningful action to his CDO.
Diversifying Management Team
In the second instance, leadership continues at the top by my diversifying the leadership ranks of the university in my first year, with my first nine hires including five women, four leaders of color and a veteran. I note that in all cases, those hired were definitively the most qualified for the role as their early actions have demonstrated. The team I have surrounded myself with includes significant diversity as to gender, race, religion, political persuasion, national origin and sexual orientation.
As the CU Foundation picks new board members in the weeks ahead, I understand they have worked deliberately to reach out to candidates who would further diversify the board.
I know the chancellors join me in their commitment to conducting unconscious bias training for all future leadership searches.
Pillar - Metrics of Strategic Plan
In the third instance, leadership at the top includes adopting Diversity, Equity, Inclusion and Access as one of four pillars of the strategic plan we will be finalizing in the year ahead. Of the metrics we have established, roughly a quarter address DEI.
First - to increase the percentage of students, faculty and staff from diverse backgrounds.
Second - to improve graduation rates both overall, and for those of diverse backgrounds.
Third - to measure the feeling of belonging annually, using a survey that can be bench-marked against other universities, to determine the degree every segment of our community feels accepted and supported.
Investment by President's Initiative Funds
Leadership from the top also includes investments from the President's Initiative Funds to advance our DEI goals.
These funds support the CU Chief Diversity Officer's efforts to coordinate diversity-oriented programs and initiatives while working closely with senior leadership and campus diversity officers in developing institutional vision and strategy to achieve the university's diversity goals. This includes giving Theodosia the extra support she needs to execute the significant tasks on her plate.
President's Initiative funds support the strategic planning process that includes the pillar to advance Diversity, Inclusion, Equity and Access just discussed.
My funding for Pre-collegiate Programs supplements campus's efforts to increase diverse student enrollment throughout the state while increasing the post secondary-ready diverse students entering the CU campuses. While Mike Lightner continues to oversee the academic focus of this effort, Theodosia will oversee each programs effectiveness in reaching underrepresented communities.
Presidential funds have also supported:
Diversity summit expenses.
The President's Diversity award, which recognize significant achievements in developing a culturally and intellectually diverse university community reflective of inclusive excellence.
Varied investments to strengthen our campuses serving the highest percentage of racial minority students - Denver and UCCS.
Efforts on the UCCS campus, spearheaded by its Center for Study of Government and the Individual, to expand viewpoint diversity and civics education.
The annual diversity survey.
The diversity marketing campaign that is under development.
In response to students' concerns about food insecurity, I commit to bolstering the efforts of our campus food banks.
Pay Equity
An important area of investment is to conduct a pay equity analysis, including engaging a consultant to identify best practices and options for a consistent methodology to ensure that employees performing similar work are paid equally. This is a significant effort that will require more of our time and likely more investment in the future.
Diversity Scholarships
Presidential Initiative Funds have supported several diversity scholarships, including for our dental students.
Last year both Dean Reilly from our School of Medicine and I committed a million dollars each to match an external fundraising effort for scholarships supporting students from less represented minorities at our medical school. I am working with our advancement teams to assist this external fundraising effort. Completing this program and other fundraising to support diversity scholarship will remain a key focus of mine in the months ahead.
Commitment to Outreach
The additions of Tony Salazar, our Associate Vice President of Outreach and Engagement, and Theodosia Cook multiplies our outreach to underrepresented groups across the state.
Tony already chairs the board of the Latin American Education Foundation and will soon join the board of the Hispanic Chamber of Commerce. He and Theodosia have made outreach to diverse communities and organizations a priority and have made considerable headway.
My engagement has including engaging with Black leaders in the Denver community hosted by Congressman Joe Neguse and attending the One Colorado annual dinner with many other CU leaders.
My visits with other Colorado universities has included brainstorming on how we best address the acute scarcity of PhD graduates from underrepresented communities in the hard sciences.
Often-overlooked in higher education are students from our rural communities. Having never lived in a town of more than 500 until I graduated from college, this is of personal interest to Debbie and me. A focus of our outreach includes connecting with rural high schools and community colleges to build bridges that lead to a college degree.
Government Relations
CU's federal affairs team has been the backbone of all statewide responses to federal action. We have supported efforts by all Colorado higher education leaders in support of DACA students and have led efforts in opposition of harmful restrictions on international students.
Before concluding by discussing efforts essential to advancing our strategic plan goals, let me touch on some other topics identified by regents and others that don't directly relate to the metrics of our plan.
Police Practices
Our campuses report that they and their community partners are in compliance with the state's nation-leading law SB20-217. Among other things, the bill institutes immediate prohibitions on certain uses of force, such as chokeholds, and requires officers to report if they observe such tactics. The bill also requires use of body cameras by July 1, 2023. Our campuses report that their police have already implemented the required use of force and body camera policies and programs. Finally, the bill requires training on new procedures by Sept. 1, 2020. All campus police departments have completed or taken steps to implement new training requirements before the legislative deadline.
The Auraria campus that includes CU Denver is establishing an advisory board for its police department. CU Denver's representative will be Omar Montgomery, head of Black Student Services.
CU Foundation Investments
Our CU Foundation investments reflect the fact that issues recently raised have long been on the mind of our foundation board. The foundation has no investment in private prisons. Investment in companies at least 50% owned by women and/or people of color represent 14.2% of investments by our asset managers, significantly higher than the 1.3% national statistic. Our exposure to companies that support hiring the formerly incarcerated has recently increased to 6.6%, up from 1.5%.
Colorado Corrections Industries
Todd Saliman has worked with shared governance groups to assemble a group with representatives of faculty, staff and students to explore how best to modify our relationship with Colorado Corrections Industries to address community concerns. They have met eight times, including meeting with CCI leadership, Department of Corrections leadership, and inmates in the program. The committee has discovered this matter, as with many matters related to DEI, is complex. My hope is they will be prepared to deliver a recommendation to you at a future regent meeting.
Training and Development
Kathy Nesbitt and Theodosia Cook have developed a framework for enhanced training programs to add climate training to our current compliance focused training. They are identifying available programs and hope to have a program in place by October.
ACT/SAT
Michael Lightner is leading an effort to explore whether standardized tests as an entrance requirement introduces bias into our recruiting process and to explore alternatives. A recent state law change allows us to suspend the use of these tests for the year ahead. Mike will be working with faculty who have a role in this decision and others to determine whether to seek longer term authority from the state for different admissions criteria.
Test Integrity
Michael is also exploring policies to ensure the use of digital tools to establish test integrity are not used in a manner that would cause bias. I understand that he is scheduled to present his findings at a future University Affairs Committee meeting.
Los Seis Artwork
The piece of art seeking to memorialize Los Seis is under a temporary permit until the Art Committee Chancellor DiStefano appointed is able to develop a policy and procedures for art on campus. Once the policy is in place, the artist can submit her piece for consideration. In the meantime, the campus has installed a temporary security camera to protect it. COVID has delayed the work of the Art Committee. Separately, the chancellor established the CU Boulder History Project led by a faculty member. Los Seis is likely their first project.
Temporary Building 1
As to CU Boulder's Temporary Building 1, Chancellor DiStefano is seeking input on possible names and is likely to seek your approval under the regent naming policy that allows for honorary names at a meeting sometime this fall.
Acknowledgement of Indigenous Land
Chancellor Marks acknowledges the tribal heritage of the land of the Auraria campus during events on campus. Theodosia is working with all the campuses to research and to propose appropriate recognition steps of campus properties on formerly tribal land.
Conference on World Affairs
I received confirmation from John Griffin of the commitment by the Conference on World Affairs to continue to embrace viewpoint diversity. Their commitment has included conducting a survey of conference participants as to their success in doing so which will continue for future conferences.
Benson Center
Professor Dan Jacobson from the University of Michigan has joined CU as the first holder of the Bruce D. Benson Chair of the Benson Center. The center saw a 33% increase in courses taught by its affiliated faculty with a 20% increase in enrollees over last year. More than 2,000 attendees participated in over 30 Center public lectures and programs this year, a 74% increase over last year's participant total, despite an additional nine planned events, which were postponed or canceled due to campus directives related to COVID-19. The center awarded 26 faculty grants in 12 disciplines.
Free Speech
As to freedom of speech and academic freedom, all campuses will issue the annual letter to first-year undergraduate incoming students, which was crafted by Regents Hill and Kroll and unanimously approved by the Board.
Hispanic Serving Institution status
Chancellors Marks and Elliman have affirmed their commitment to take actions necessary to secure designation for CU Denver and CU Anschutz as an Hispanic Serving Institution once they qualify.
Finally, let me turn to actions we are undertaking to advance our strategic planning as it relates to DEI.
Analysis to Define Goals
In preparation for finalizing the goals we should establish for these metric, Todd, Theodosia and Ryan Allred have begun a deep dive into studying our results in comparison to our state and peers for all three plan metrics – diversity, student success and feeling of belonging – a process that, when completed and the results are in, we would love to share with you as we proceed towards setting appropriate strategic plan goals for improvement.
We are all aware that CU Denver leads amongst our campuses in the diversity of its student body while CU Boulder is the least diverse of our campuses. CU Boulder has made progress with a doubling in enrollment among minority communities since 2010, compared to a 3% growth in white enrollment. CU Boulder saw a 118% increase in Hispanic enrollment during this period, but only a 7% increase among Black students. We fully recognize we have much more work to do on all our campuses towards improving on all three measures we have defined - enrollment,  student success, feeling of belonging. A razor-sharp commitment towards these ends must be our focus.
Climate Survey/ Cataloging Actions
To define the appropriate actions necessary to truly make progress on these metrics, as Theodosia will soon outline, besides leading the effort to conduct an annual climate survey, she will be working with the campus vice chancellors and the campus strategic plan DEI working groups over the next year to conduct a thorough cataloging of the extent and effectiveness of DEI activities, across the spectrum from where and how we recruit students, staff and faculty, how we onboard them and how we support their success. She will also explore how DEI is incorporated into our fundraising and community outreach activities. This effort, conducted by DEI professionals with an eye towards best practices, research, data and results, will take time and require patience, but I am confident it will set the stage for future progress.
These are the actions we have taken and the steps we are making to the lay the groundwork towards further future actions. I now turn it over to CU's Chief Diversity Officer Theodosia Cook to outline the activities she will lead, followed by the chancellors. We welcome your questions, your input, your oversight and your holding us accountable for progress on this important matter.