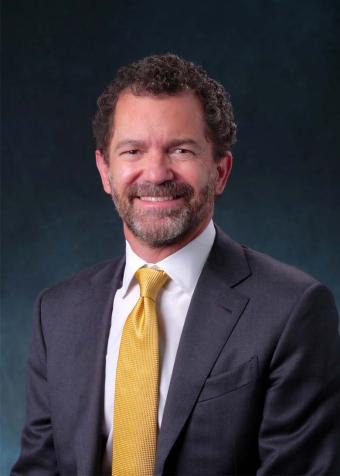 Todd Saliman became the 24th president of the University of Colorado in July 2021 following his appointment by the Board of Regents.
A lifelong Coloradan and proud CU alumnus, Saliman was born and raised in Littleton, and he graduated from CU Boulder with a degree in political science. With 30 years of experience in public policy and higher education in Colorado – including serving in the state legislature, working for two Colorado governors and overseeing CU's budget operations for more than a decade – Saliman has devoted his career to advancing the state and CU. He believes deeply in the value of higher education and the power of a four-year degree to unlock opportunity.
As president of CU, Saliman has made it a priority to engage with communities across Colorado so he can better understand the state's evolving needs. He is committed to ensuring that CU reflects Colorado's diverse population and ideas. Saliman counts helping students across the finish line to graduation among the university's primary responsibilities. By doing so, he believes CU positions students for success, which ultimately benefits their communities, the state and the world beyond.
Before being named president, Saliman served as CU's senior vice president for strategy, government relations and chief financial officer. As head of the university's budget and finance operations for more than 10 years, Saliman was instrumental in transforming CU's budgeting process to make it more efficient, transparent and easily understood. His efforts have helped enable the Board of Regents to keep tuition in check while making informed decisions that allow CU to thrive.
Saliman is a former member of the Colorado General Assembly and spent four years on the Joint Budget Committee. During his tenure in office, Saliman worked to protect the disenfranchised and developmentally disabled, and carried legislation to fund mental health, child welfare and other human services. He advocated for creating locally-based systems to provide wraparound services for at-risk youth, protecting affirmative action and developing responsible government fiscal initiatives. Saliman was also a strong advocate for P-20 education.
Saliman served in the Cabinet for two governors. During Gov. Bill Ritter's administration, he directed the Governor's Office of State Planning and Budgeting, representing the governor as he worked with the legislature to develop and implement the state's budget and other legislative and strategic initiatives. Saliman and his team worked with every state department to build the governor's budget request – submitted annually to the Colorado legislature – and recommended and implemented plans to keep the budget balanced throughout the fiscal year. His office also prepared quarterly economic forecasts for the state. He guided the state budget during the great recession of 2008 and worked with legislative leadership to keep the budget balanced by cutting billions of dollars of state spending. When Gov. Hickenlooper was elected, Saliman continued as a senior advisor during the governor's first legislative session and provided guidance and support on state budget and policy issues.
Earlier in his career, Saliman owned and operated a lobbying firm that represented some of the most prominent organizations and governmental entities in the state, including the University of Colorado. He and his wife, Michelle Segal, an alumna of the University of Colorado Law School, are the proud parents of Max and Mira. In his spare time, Saliman enjoys woodworking, playing the guitar, yoga, skiing, hiking and attending bluegrass music concerts with his family. 
"The University of Colorado's strength lies in our students, faculty and staff, and the extraordinary things happening on our campuses. CU touches so many lives in so many ways: from improving water quality on Earth to exploring outer space; from uniting people through the beauty of live performance to providing leading health care to tens of thousands of patients each year. I am both humbled and proud to serve this great university – my alma mater – which is a force for good in the world." – Todd Saliman, University of Colorado President